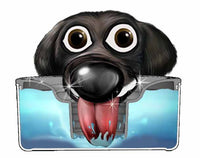 INDUSTRIAL STRENGTH MATERIALS
PLASTIC LID - CLEAR FOOD GRADE TRITAN MATERIAL
Tritan CoPolyester (Link to Material Safety Information). Gives the product a high quality Feel. This Lid is super durable. Watch this Video (Called Run Over Tough) where a Car Runs over the Material. Tritan by Eastman Chemical Company is the cream of the crop when it comes to plastic food safety products.

STAINLESS STEEL BOWL - HOLDS 1 GALLON OF WATER
A Thick Stainless Steel Food Grade Metal Bowl (AISI 304 Food Grade 18/8 Stainless Steel 1 Millimeter Thick)
SLOPPER STOPPER "TAKING CARE OF THE MESS SO YOU DON'T HAVE TO!"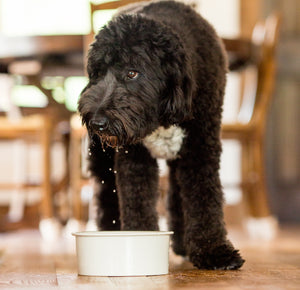 Your Current Bowl - Lots of Slopp
Lots of Drips everywhere on your floors?
A hazard for slips and falls.
Your floors being ruined?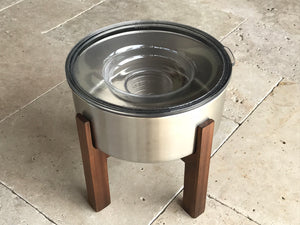 Slopper Stopper Deluxe Bowl and Stand
Bowl - Works with any Breed Type
Bowl - Holds 1 Gallon
Stand - Bowl Edge Height 10 Inches
Stand - Made of Acacia Wood
Stand - Sealed Natural Rustic Finish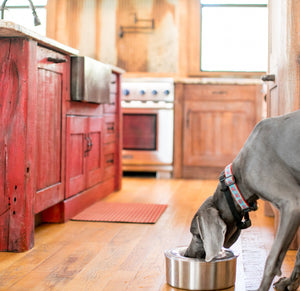 Deluxe Large Breed Model Shown
REVIEW:
"Got our bowl today! Now our boys can drink water from in the house instead of having to go out on the cold or hot porch to quench their thirst and we no longer need to run behind them with a mop cleaning up slobber!" Elaine